Professor Christer Bruun was recently awarded the Frontinus Medal, an international award for his contributions to the study of ancient water supply. The original article published by the Frontinus Society can be found below:
Frontinus Medal awarded to Prof. Christer Bruun, PhD
The traditional highlight of the Frontinus Society's international symposium on bathing culture, held in Budapest from September 8-15, 2022, was the awarding of the Frontinus Medal to Prof. Christer Bruun, PhD on September 9, 2022 by the President of the Frontinus Society, Prof. Dr. Hans Mehlhorn.
In his address, the President emphasized the importance of the Frontinus Medal. When the Frontinus Society was founded in 1976, it was a central concern of the association to honour outstanding personalities who have rendered outstanding contributions to the research of water and piping technology by awarding them the Frontinus Medal. Over the years, the Frontinus Medal has also developed internationally as a Nobel Prize in the field of the history of water and pipeline technology.
Since then, 28 personalities have been honored with the Frontinus Medal. It is an honor for the Frontinus Society to be able to present the Frontinus Medal to Professor Bruun as the 29th awardee. That Prof. Bruun is highly deserving of this honor is made clear in the laudation by Patrik Klingborg. Unfortunately Patrik Klingborg could not be present, therefore Gilbert Wiplinger agreed to read the laudation.
You can download the laudation

Bruun_Laudatio_en.pdf.
Figure: Prof. Bruun's Frontinus Medal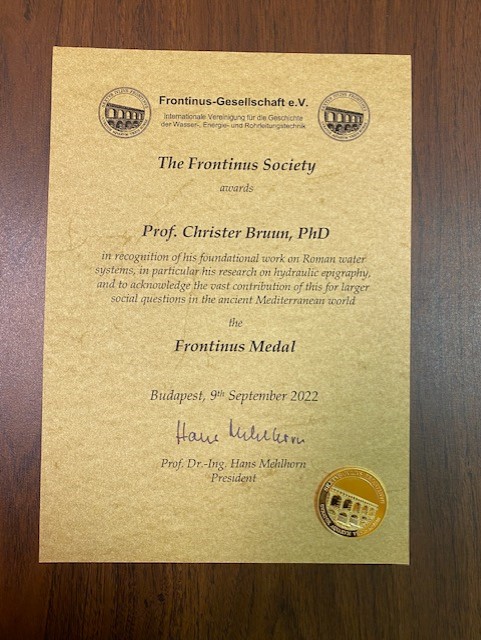 Figure: Prof. Bruun's Frontinus Certificate and Medal
Categories
Tags